Many investors are happy holding stocks like the big four banks because of their high fully franked dividend yields. As we saw from NAB's (ASX: NAB) dividend cut, however, that dividend yield matters little if it suddenly gets cut by a large amount. A history of consistently increasing dividend payouts will unfortunately not protect investors from this possibility. BHP Billiton (ASX: BHP), which has a longstanding progressive dividend policy, broke that in FY16, when the company cut its dividend by more than three quarters.
It is clear that having a high dividend in and of itself is not enough to warrant making an investment decision. A small mining producer, Talisman Mining, recently announced a maiden dividend which amounted to a yield of over 60%. Unfortunately, the company delivered no profits for the past 5 years to support it, meaning that the dividend is unlikely to ever be repeated. A company with a stable, growing 5% dividend yield will be preferable to the dividend investor than a company like Talisman Mining. While Talisman may not be a bad investment, it would be imprudent to rely on the company's 60% dividend yield for stable income going forward.
Quality yield is about finding a stock that is unlikely to cut its dividend and can slowly increase its dividend yield over time through steady earnings growth. The payout ratio is a good proxy for a dividend cut; if a business is paying out more than 80% of profits, like Westpac (ASX: WBC) and CommBank (ASX: CBA), it often has a higher than average chance of needing to cut its dividend to get some cash to reinvest. Cyclical sectors such as banking and mining are also susceptible since their earnings can swing more than normal in a downturn.
High yielding stocks tend to perform better than the market in recessions and downturns because investors look for stable income opportunities. Not all dividend stock, however, will outperform, and some will badly underperform if they are in cyclical industries. US banks, for instance, lost an average of well over 80% of their value in the GFC, and many have either gone completely bust (Lehman being a case in point) or never recovered. This is why it's not good enough to just search for yield, you need quality yield.
Market corrections, constituting a 10% selloff in the stock market, generally occur at least every once to two years. While commentators typically talk endlessly about fears of a recession in such scenarios, they mostly do not end up in a recession. At present though, the signs are pointing to a sharp slowdown in the global economy, at the least. In this environment, it is worth looking for defensive stocks, and companies that can maintain dividend payouts in challenging times.
Is There any Magic Formula for Quality Yield?
On HALO, our portfolio management and analytics tool, we have a monitor designed to identify companies with a quality yield. This helps identify companies which will not only provide you with a stable income stream, but also one that grows over time.
Given that the average Australian house cost well under a thousand pounds a century ago, it is imperative to make sure your income keeps up with inflation. Many dividend investors, however, think that it is fine for a company to not grow its dividends at all, and some even unquestioningly live with declines in dividend income that go on for years. We don't, which is why our quality yield monitor will only return companies that have growing dividends.
It is also important however that if you are investing for yield, the company you are investing in has dividends which are better than average. While we do recommend keeping an open eye to global opportunities, the Australian market does have higher average dividends than most other global exchanges, primarily due to the tax advantages of paying out profits in the form of dividends. We ensure that all the dividend stocks we recommend have a yield of over 5%, which is 25% above the average for the index. While Australia is a dividend investor's paradise, you still want to be doing better than average in terms of the income you will get today.
Since the monitor is designed by a top-performing fund manager who has seen a few financial crises, it excludes any companies with a debt to equity ratio above 30%. This automatically rules out the big banks and has been included because companies with high levels of debt often go bust in recessions, leading to permanent loss of capital. Anyone who has been in the markets a while can tell you that permanent loss of capital is a much bigger problem than price risk or even dividend cuts, because the entire investment is lost forever. This is why we make sure that we focus on low debt companies; when well-managed, these businesses are unlikely to go bankrupt and are more likely to be able to maintain dividend payouts.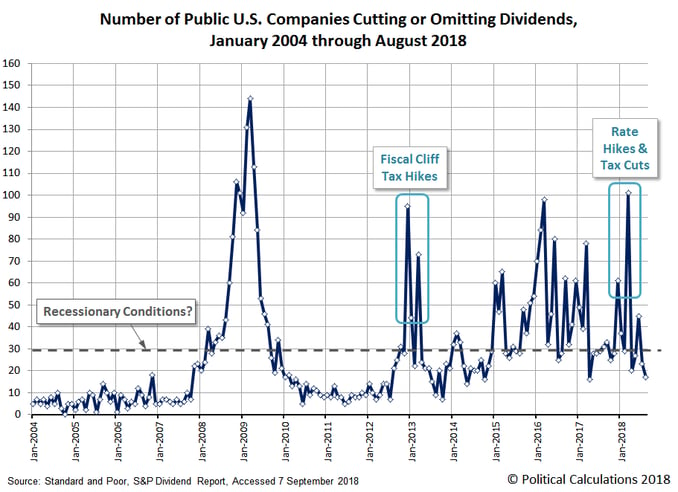 Figure 1: Dividend cuts often come at the worst times (Source: Standard and Poor)
Another factor we consider is the return of equity of the business. Many investors turn a blind eye to this metric, losing large sums of hard-earned money in the process. Return on equity is the profit of the company divided by the amount of money the business invested to get those returns. This is often very different to the market capitalisation of the business and represents the efficiency by which management gets returns on the cash invested.
This is important because if is too low it means that management is not very efficient at making money, or the business operates in a low-quality industry. Both these factors make dividends more unstable and increase the chance of a dividend cut. The problem with dividend cuts is that you often take a capital loss by moving the money elsewhere, which is why we make sure that all companies we invest in have a return of equity that is over 10%. This is a good indicator that the business is of reasonable overall quality.
The last part of our monitor screens out businesses with a market capitalisation of less than a billion dollars. While not essential, it gives us businesses that investors are more likely to be aware of, as well as ones that are more liquid.
Is this all I need to do?
Before investing in a company, it is always a good idea to understand the business model. If you're an existing subscriber, you have the option of contacting one of our advisors, reading our reports which have an average return of 25% a year, or seeing what the large investment banks and brokers think will happen to the dividend over the next three years through HALO. If you don't use our service however, you still have access to company presentations and annual reports by searching the company's stock ticker on the ASX website. While this won't be as comprehensive a research process, it will certainly be better than doing nothing.
By understanding the business and speaking to an advisor, you will be able to pick up issues which might not come up at first sight using the HALO monitor. One such example is a company making great returns on equity with low debt and high dividends, that have grown year on year because the industry is in a cyclical upswing. If the cycle changes, a company like this may still see a dividend cut, similar to BHP in 2016. This is why we would recommend at least reading a few company presentations to better understand the business and industry in which it operates before making a trade.
Will we go into Recession?
Figure 2: 2s10s inversion has been a timely recession indicator (Credit: St Louis Fed)
One indicator that is used to see whether the economy will go into recession is the 2s10s spread. When investors worry about the economic cycle, they prefer to buy long term bonds since they go up more than short term bonds. To illustrate why, suppose you held a $1,000 bond paying a $50 a year in interest for the next 10 years. Imagine interest rates suddenly fell by 5%, and new bonds that sold for $1000 now paid a 0% interest rate. Investors will clearly pay a lot more for the first one since it makes more money, pushing the price of the initial bond up. This effect is more muted over shorter time horizons.
This is why investors like longer-term bonds as much as shorter-term ones when they think the economy will contract. Bond markets have, in the last four market cycles, predicted contractions far earlier than the stock market. The difficulty is that the stock market generally rallies 13% over a few quarters after the first yield curve inversion. If history is any guide, now is not the time to exit the markets completely, but it is the time to invest more defensively.
Isn't Cash Better than Dividend Stocks in a Recession?
While dividends may go down in a recession, the trouble with cash now is that you won't make an income in the meantime. Let us assume for a moment that the safe dividend stock you choose declines 25% in a recession. Assume that you also call a recession correctly, the economy starts to turn two years after you call it and the recession occurs two years after the downturn begins. Within that time, you have made the 25% back through a growing dividend yield, while making next to no income in bank deposits, with the RBA's cash rate sitting at 1%.
While interest rates are at record lows in Australia, the success of quantitative easing (QE) across the US and Europe and the possibility of a recession all combine to indicate interest rates can go a lot lower. The RBA cut interest rates by 425bps in the GFC, and they would have less than a quarter of that room today before interest rates went negative.
This makes negative rates a real possibility if there was a recession today. It would be almost unprecedented for a central bank not to cut interest rates by more than 1% in a recession where inflation was running below the central bank's target range. This would mean that you would not only not get interest at all on bank deposits, but you would also be billed for keeping cash there.
Sounds crazy? Then check out these advanced economies which have already cut rates to negative territory, even before a recession:
Figure 3: Major advanced economies already have negative interest rates
There are already $15tn in negative world bonds worldwide, meaning that investors accept a guaranteed loss on investment if the securities are held to maturity. While Phillip Lowe said that he hoped" to avoid negative interest rates, he is from ruling them out. If a moderate to severe recession was on the cards for Australia, negative rates are more likely than most people realise.
Are you really happy facing the real prospect of a guaranteed loss on your investment?
We're not, and why would we when we can get over 8% though safe, high-quality international equities?
Is There a More Set and Forget Way to Invest in Dividend Stocks?
Our International High Dividend Vue, a selected list of international stocks with attracts no management or performance fees, pays an 8-9% dividend yield. For investors who also want to not tie all their assets to the health of the Aussie economy, an 8-9% dividend yield beats 1% in local banks. This is one of the many options that investors have if they want to boost their income and get out of the trap of declining interest rates that has defined term deposits over the past few years.
One of the securities we hold in the Vue is Gaming and Leisure Properties Inc. This is a Real Estate Investment Trust (REIT) covering high-quality properties in the United States. While gaming is a cyclical business, the beauty of the REIT is that it only controls the underlying real estate, not gaming businesses like casinos. Their properties are leased to experienced operators in triple net lease arrangements, which means that they will get a steady income stream for years. Their clients are large, safe and experienced gaming operators, which are very unlikely to go bankrupt. The attractive 7.11% yield significantly outpaces Aussie REITS, which typically yield 3-5% for properties of similar quality.
We also hold a top 3 Global private equity firm, which manages over US$220 billion in AUM. PE firms run investment funds that buy out entire businesses, improve efficiency and profitability as they transform the operations of those companies, sell them at a profit. After this, the PE firm will close its fund and receive a large component of its performance fees.
This creates a volatile earnings stream, given the company is paid for their performance after a few years. For this reason, private equity as an industry tends to be poorly understood by investors. In a market obsessed with quarterly earnings, the great 20%p.a. long-term growth rate of a brilliant business with sustainable competitive advantages is completely ignored by the market. This creates a great opportunity for us to use our long-term investment mindset to our advantage, and lock in a 7.81% yield at 7.6x earnings.
The importance of quality yield explains why we still recommend stocks paying a 4-5% dividend locally, despite being able to easily find stocks paying much more. We would rather a 4-5% dividend that could sustainably grow to over 10% of the initial investment over a few years, than a 10% dividend for a company in terminal decline.
America is a great place to invest for dividends. There are numerous US companies that have not missed a dividend payment in a hundred years, have sustainable payout ratios and quality management. Given this includes two world wars, the Great Depression and the GFC, it is quite an accomplishment.
---
Disclaimer:
This article has been prepared by the Australian Stock Report Pty Ltd (AFSL: 301 682. ABN: 94 106 863 978)
("ASR"). ASR is part of Amalgamated Australian Investment Group Limited (AAIG) (ABN: 81 140 208 288 Level 13, 130 Pitt Street, Sydney NSW 2000).
This article is provided for informational purpose only and does not purport to contain all matters relevant to any particular investment or financial instrument. Any market commentary in this communication is not intended to constitute "research" as defined by applicable regulations. Whilst information published on or accessed via this website is believed to be reliable, as far as permitted by law we make no representations as to its ongoing availability, accuracy or completeness. Any quotes or prices used herein are current at the time of preparation. This document and its contents are proprietary information and products of our firm and may not be reproduced or otherwise disseminated in whole or in part without our written consent unless required to by judicial or administrative proceeding. The ultimate decision to proceed with any transaction rests solely with you. We are not acting as your advisor in relation to any information contained herein. Any projections are estimates only and may not be realised in the future.
ASR has no position in any of the stocks mentioned.