5G Technology is the driving force that is enabling most of the game-changing technologies over the next decade, from autonomous cars to smart homes. The network has the potential to be 100x faster and has 1000x more capacity than 4G, which is why the technology is so revolutionary. Having such a sudden increase in capabilities is what allows 5G to enable technologies that aren't even possible today to reach a point of widespread market adoption.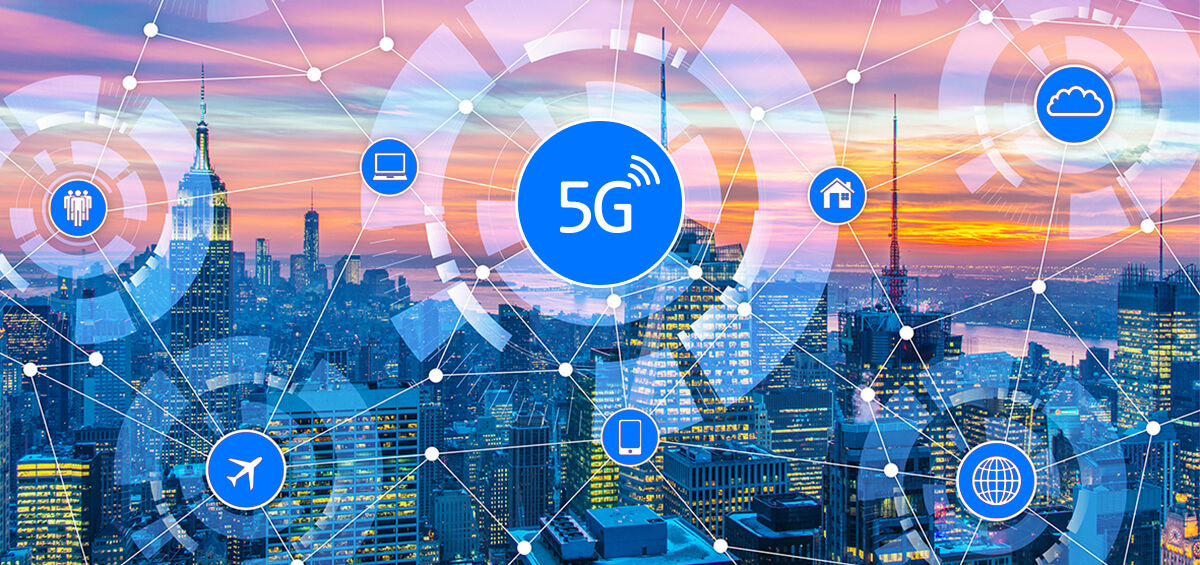 The process of bringing 5G to life starts with the development of the technology itself, an innovative, lucrative and high margin business. Companies will also build more advanced processors that can make the most of what 5G has to offer. Finally, you have telecommunications companies that are responsible for rolling out the 5G infrastructure, which will replace their existing 4G networks that will soon be obsolete.
Of these industries, developing network technology and technology that enables products is by far the best quality business to be in. The best 5G technology will help differentiate telco operators in a competitive market, giving the businesses that sell such technology a very high degree of pricing power.
Processors are another great business to enter, partially because 5G will enable the introduction of the internet of things. This development will increase demand for processors exponentially, since people will have dozens of computing devices at home instead of just a few, such as computers and smartphones. For industrial applications, increased automation will result in rising expenditure on devices requiring processors, although this expense will enable the business to cut costs by a greater amount.
The technology will provide by far the least benefit to telcos. The main advantage they will have is being able to lift premium enterprise revenue, by allowing for the development of high-end packages for applications like gaming and autonomous cars. Most telco players, however, are not well-positioned to take advantage of the growth in the technology. This is because telco consumers expect continual network improvements without meaningful price increases, as they have been receiving for decades. This means that telco companies have a large bill for a 5G rollout, just to stay relevant in the eyes of consumers. With most operators rolling out 5G networks simultaneously, we do not anticipate major global market share shifts within telecommunications off 5G development.
Unlike the Australian market, however, a recent Bain report said that over half the executives of telcos around the world said that they saw no clear, compelling near-term business case for 5G and were therefore not investing in it. Those businesses risk being left behind by investors, and investors should be extremely cautious before investing in them. Just as few consumers would stick with a company only offering dial-up connectivity today, not investing in 5G will put a business at a significant disadvantage to competitors. While none of the major telco companies in Australia is shelving 5G indefinitely, they will also not have a competitive advantage against each other, meaning there are few catalysts for any of them to gain market share.
Since 5G is such a transformative technology, it will affect multiple industries and winners won't be evenly spread. This is why it of paramount importance not to just invest in any company exposed to the 5G trend because some of them won't go up just by being connected to the technology.
Case Study: Telstra (ASX: TLS)
Telstra keeps talking about their 5G rollout, but, as with all bursts of enthusiasm from executives, that doesn't necessarily mean it will actually make money for investors over the long term. Optimism towards this development did cause the stock to rally almost 40% this year, as investors rewarded Telstra for developing its network earlier than competitors. While investors like companies with a strong first movers' advantage, telco customers are not known for moving between providers quickly. Historically, there is little evidence to suggest that large numbers of customers switch service providers to access to a new network slightly earlier.
In analysing the recent rally, it is worth assessing Telstra's 4G network, the bulk of which was rolled out in 2014 with the network completed in 2015. In 2015, the company also launched Cat-6 connectivity, a more advanced system that maximised network speed for customers and represented the pinnacle of what 4G has to offer. Since Cat-6 offered far superior connectivity, Telstra continued to rally for an extended period, as investors assessed the prospects of the network.
The share price sold off heavily once the hype around 4G died, entering a multi-year downtrend. While we do not yet know the outcome for Telstra's 5G rollout for sure, investors should think about if and why the 5G rollout will be different. The company is also a play on the US-China trade war, given that the main reason Telstra is ahead on their 5G rollout is that competing networks from Optus and Vodafone have been delayed, while TPG has canned their network rollout after the Huawei Ban. It remains to be seen how long competitors will be delayed by the Huawei ban. Over the long term, any market share declines in profitable coastal cities will hit the telco's profitability, due to the low incremental user costs of mobile networks.
How do I get the Good 5G Businesses?
For an easy way to take advantage of price gains from companies that will make the most of 5G, we have a 5G Networks portfolio on our international investment platform, Macrovue. This portfolio, which attracts no management or performance fees, has given us over 32% in the past year.
This is because we not only find out how 5G will affect different companies and industries, to ensure we choose the right ones for future growth, we also look into hundreds of businesses to find the very best companies. Since it is such a transformative trend, it would be worth at least considering a few of them to tap into the revolutionary potential of what 5G has to offer.
Qualcomm (+32.65% LTM), one of the largest mobile chip makers globally and a company that is aggressively marketing its 8-series mobile platform chips customised for 5G enabled devices. The chipmaker also has several marketable connected car platforms that enable autonomous driving through 5G and is positioned to grow market share.
Skyworks (-0.39% LTM) sells semiconductor support applications that enable the internet of things to function. The firm's technologies are applied across areas as diverse as avionics, biomedical products and collision avoidance systems in autonomous cars. With IoT enabled devices poised to grow to 75 billion by 2025, Skyworks is positioned to enjoy attractive growth for the foreseeable future.
Keysight (+63.82% LTM) produces communications solutions, electronic industrial solutions and ixia solutions, helping customers enhance network performance and security. Unlike other companies in this view, Keysight focuses on maintaining 10% EPS growth but with growing net margins which sit above 20% through improving overall business quality.
Extra Opportunities
Being able to access the other 98% of global markets opens entire industries and thematic factors that simply are not for sale on the ASX. One example is 5G Networks, a technology enabling the introduction of autonomous cars and IoT devices. This tech is set to transform the global economy over the next decade. We just don't have companies at the cutting edge of developing 5G in Australia. Telstra faces more competition with 5G than it did with 4G, which doesn't bode well for the telco giant, given the completion of its 4G rollout was followed by a multi-year share price slide.
The S&P 500 has quadrupled since the financial crisis, where our own market has barely doubled. This makes a massive difference to the long term returns of investors and occurred while the Australian economy was enjoying a golden 30 years of economic growth. To make matters worse, most Aussie investors invested in BHP, RIO and the big 4 banks. Most of these investors barely moved over the past 10 years, where someone who bet $350k on the US market and did nothing else would have been sitting on over a million dollars in profits. The market has changed, and the wealth-building multi-baggers of the future may not be the blue-chip stocks of today.
There are also opportunities to purchase stocks at far more attractive valuations; high dividend stocks internationally often yield over 10% with growing earnings. This is particularly true in Europe, where a decade of stagnation and concerns over EU stability has dented stock market performance. The WAAAX stocks provide Aussie investors with sky-high rates of growth, but trade at some of the highest multiples awarded to any growth companies in the world. This is because there are so few growth companies in Australia, that Aussie investors who are unable to invest offshore must pay much higher multiples for growth.
Macrovue
Typical issues which Aussie investors have with investing offshore include more limited knowledge of companies outside, sky-high brokerage costs at the major brokers and not knowing where to start. We side-step these issues through developing a platform called Macrovue, where a top-performing fund manager identifies attractive international investment opportunities for us to look at. We pay $15 a trade for brokerage and have a clear direction on which economic trends we are investing in. As one of the only platforms offering managed portfolios without a management fee, it's worth looking at a couple of the themes we are looking at. The portfolios each have several stocks that investors can pick and choose if they wish:
Warren Buffett Top 10 (11.21% LTM): While the Oracle of Omaha needs no introduction, the $400k price tag of one of his class A shares prices many investors out of the company. To address this issue, we created a portfolio tracking his top 10 holdings, allowing you to instant access to the wisdom powering the 20% average returns for 60 years that Buffett delivered to his investors.
Luxury goods (+4.82% LTM): Luxury goods producers have high-profit margins and sticky customer bases, making them excellent long-term investments. They are particularly well-positioned to take advantage of the growth in China, given the high levels of luxury goods expenditure amongst the nation's booming middle and upper class. Many of the companies in this view have significant family ownership stakes, including Hermes and LVMH, protecting them from short term biases in decision making.
Disruptive Technology (34.05% LTM): With the average company staying in the S&P500 for less than 15 years, as compared with 60 years a few decades ago, not reviewing positions in previously untouchable blue-chip stocks is becoming risky business. The pace of technological growth is accelerating, and the leaders of tomorrow will be the companies best able to capitalise on this trend.
---
Disclaimer:
This article has been prepared by the Australian Stock Report Pty Ltd (AFSL: 301 682. ABN: 94 106 863 978) ("ASR"). ASR is part of Amalgamated Australian Investment Group Limited (AAIG) (ABN: 81 140 208 288 Level 13, 130 Pitt Street, Sydney NSW 2000).
This article is provided for informational purpose only and does not purport to contain all matters relevant to any particular investment or financial instrument. Any market commentary in this communication is not intended to constitute "research" as defined by applicable regulations. Whilst information published on or accessed via this website is believed to be reliable, as far as permitted by law we make no representations as to its ongoing availability, accuracy or completeness. Any quotes or prices used herein are current at the time of preparation. This document and its contents are proprietary information and products of our firm and may not be reproduced or otherwise disseminated in whole or in part without our written consent unless required to by judicial or administrative proceeding. The ultimate decision to proceed with any transaction rests solely with you. We are not acting as your advisor in relation to any information contained herein. Any projections are estimates only and may not be realised in the future.
ASR has no position in any of the stocks mentioned.