Over the last couple of months, we saw broad based interest rate cuts from the US Federal Reserve and the RBA, along with a strong hint at interest rate cuts from the ECB and Bank of England. Central banks are acting against the backdrop of increased economic uncertainty and concerns over a potential economic slowdown. Volatility has risen, but less than what would be typical of a late cycle market dynamic. Nevertheless, this increases the chance of a 10-20% pullback in equities, making some analysts bearish on stocks. Financial markets are set to be driven by three major themes over the next few months, those being slowing global growth, rising geopolitical tensions and monetary policy easing.
Slowing global growth as the current cycle peaks and unemployment around the world falls to record lows, reducing potential jobs growth. This is likely to be a drag on markets.
Increased geopolitical tensions with trade disputes, escalating tensions with rogue states and populist policies creating lingering uncertainty in markets.
Monetary and fiscal easing around the world provides support to global markets, boosting risk assets and extending the equity rally longer than previously expected.
Despite this backdrop however, a recession is not imminent and there is still time to make money on some of the more cyclical, or more volatile, industries in the market. It is for this reason that we still hold recommendations on tech stocks, some of which have risen by over 100% since we recommended them. We remain constructive on the long-term dynamics of the sector and would not look to go underweight until we a further deterioration on the macroeconomic front.
Financials
This reporting season saw satisfactory results from the big four banks in Australia. While this has been constructive for the sector, it has left banks on very expensive multiples compared to global peers. There are two out of the big four banks that now have payout ratios above 90%, a level widely regarded by analysts as unsustainable. Even the banks themselves generally target payout ratios of 70-80%, implying that we could still see substantial dividend cuts across the sector. This will not be helped by net interest margins falling to record lows under 2%. Low net interest margins make banking sector profits far more susceptible to a correction.
We are underweight financials and have been for some time. It is our view that the absence of a recession at home for the past three decades has resulted in financials, particularly the banks, being mispriced. The most pertinent example of this mispricing lies in the widespread belief that the big four banks are safe investments. There has historically been a major wave of bank recapitalisations globally every two decades at a minimum, and in most of those cases a recapitalisation will result in equity holders in the banks losing the entirety of their investment.
The sector will also suffer from the recent rate cuts, the bulk of which were passed straight onto consumers. Banks get around 40% of their financing from offshore, meaning that they still have to borrow at high interest rates. As such, the change promises to eat into margins across the banking sector, which is a definite negative for investors. Furthermore, record low net interest margins across the sector means that businesses are already in a weak position to cope with changes like this one. Additionally, any further deterioration in the property market could escalate quickly at current levels, given another 10% drop in property prices would cause the number of properties that sit in negative equity to snowball.

Figure 1: Profitability of Australia's major banks sits at the lowest level since the GFC
Consumer Stocks
In spite of a lacklustre macroeconomic backdrop, we only have a slight preference for consumer staples over consumer discretionary. Over the near term, two interest rate cuts from the RBA have made significant in-roads into mortgage repayments, supporting the Australian consumer over the next year. This is because monetary policy has a 12-18-month time lag before the benefits fully flow through to the economy. This has also been supported by tax cuts, both in Australia and in the United States, that keeps spending up. Positive results from companies like JB Hi-Fi (ASX: JBH) underscores this trend.
Despite some positive results, the volume of total retail sales is not at levels not seen since the 1991 recession and is significantly worse than the GFC. We aren't being alarmist about these results however, since it is more reflective of the switch to online retail than a deterioration in the broader economy.

Figure 1: Australian Consumer Confidence
While consumer confidence has been on the wane, we are constructive on the sector more broadly. Our view is that companies like Myer (ASX: MYR), who have been continually failing to execute and are poorly managed, are the drivers of underperformance. The retail landscape at present is one of growing competition, in which quality management is paramount and an ability to execute effectively in the online space can drive outperformance.
Energy
Oil, typically a bellwether for the health of the global economy, has continued its sustained downtrend this month after peaking in April. The commodity recently entered a bear market, with prices for Brent crude yesterday capping a 20% decline from their most recent highs. This has been a major source of stress for shareholders of ASX oil giants, such as Woodside Petroleum (ASX: WPL), Santos (ASX: STO) and Oil Search (ASX: OSH). The main cause of the drop was concerns over economic stability, and not an oversupply of the commodity. To make matters worse, US stockpiles of oil stopped declining and started increasing. Additionally, if the trade war deteriorates to the point where China buys Iranian oil to sabotage US efforts aimed at isolating the rogue state, oil prices could enter a tailspin.
Oil did however recover after bullish comments from Saudi Arabia, erasing most of the 4.7% decline which occurred the previous day. Saudi Arabia announced, through spokespeople, that they will not tolerate such significant falls in oil prices and all options for intervention in the market would be on the table. Saudi Arabia has always occupied a lead position in OPEC, a cartel of oil producing countries, and is currently producing less than its allocated quota.
A further contributor to negative sentiment in the sector is PNG seeking to renegotiate a deal around the $20bn expansion of a signature LNG project. This is an unexpected development, given their Prime Minister signalled they would not seek to renegotiate the deal as little as a month ago. It further reduces regulatory clarity in an already volatile political environment and is causing a sell-off in producers involved in the project. We remain underweight energy until the industry and macroeconomic fundamentals improve, or equities become cheaper.
Health Care
We are underweight healthcare overall due to valuations within the sector approaching extreme levels. The big piece of news within the health care space recently was an upgrade from CSL, a company which rallied 6% on the announcement of positive guidance for FY20. Their FY19 results were roughly in line with guidance, supporting the company's valuation. CSL is a great example of a quality business, since incremental innovation around influenza and blood plasma products can be followed by incremental price increases which are broadly accepted by consumers. Their world class research team cannot be replicated easily by a competitor, creating enormous barriers to entry and protecting CSL's sky high margins. At this point, the main question over CSL is the price – the stock trades at over 40 times earnings, which causes some investors to navigate towards other opportunities.
The aged care sector has been under pressure because of the Royal Commission. Japara Healthcare, one of the largest aged care companies in the country, has fallen more than a third since the start of May. There is significant regulatory risk around the sector's future, and our preference is to wait until this regulatory risk subsides before investing in the healthcare space. Further developments are unlikely to be positive for the aged care sector, justifying waiting until the end of the Royal Commission before investing. The systematic importance of the industry, in addition to the requirement for the government to provide additional healthcare if the cost burden rises too far, is likely to constrain adverse regulatory action. As such, we may initiate recommendations within aged care after the Royal Commission ends and before policy changes are announced.
While there are some great companies operating in the sector, our macroeconomic outlook leads us to exercise caution. The underlying business is defensive and well positioned to capitalise on key long-term economic trends such as an aging population, but these factors have already been priced into companies within the industry. There are also some near-term risks from sources like the Royal Commission, supporting our cautious approach.
Industrials
Industrials is a diverse sector, on which we are neutral in outlook. Within the sector, the main issue preventing us from having an overweight recommendation is extreme valuations within sectors such as infrastructure. The sector is currently benefitting from an unprecedented boom in federal and state government infrastructure spending, which comes off the back of a long period of underinvestment in infrastructure that made it a big political issue. Since this current period of elevated infrastructure spending will not last forever, we believe that the growth multiples widespread throughout the sector could come under pressure.
One notable sector in the space was Transurban reporting full year results in August. Transurban saw 26.3% revenue growth, but EBITDA grew by a more modest 12.3%. With most infrastructure projects now done privately and the sector having a long-term growth rate much in line with GDP, this growth rate is unlikely to be sustainable over a long-term horizon. Investors are attracted by the company's 4% dividend yield which, though sustainable for a few years, may come under pressure if infrastructure sells off.
We have also noticed elevated multiples in more growth focussed areas within the industry like fleet management, which we believe will contract substantially in a meaningful market correction. This is because the demand for work related fringe benefits is exposed to the number of people in the top tax bracket, willingness to spend on cars and the ability of workplaces to pay for fringe benefits. All of these are vulnerable to a downturn, resulting in slowing earnings growth which is not currently priced into the sector, causing a substantial multiple contraction.
Aviation is a particularly cyclical industry, as evidenced by the share price of Qantas dropping from more than $7 before the GFC to under $1 shortly thereafter. While the British Airways bid and Qantas' union woes played a role in the extent of this decline, the industry is intensively competitive, low margin and economically sensitive. We remain underweight the industry, as we believe that the cyclicality of the sector and potential return to losses is not fully priced at current levels.
One part of infrastructure we are constructive on is waste management. The sector is exposed to the structural growth drivers of rising landfill costs, increased waste disposal levies for interstate and offshore waste disposal, consolidation of market share amongst major listed players and population growth. Nevertheless, like other industries within the industrials sector, multiples are stretched, and this overweight positioning is subject to change.
Technology
We are overweight technology stocks, with the view that a recent selloff in the sector and strong long-term business fundamentals of the companies we hold outweighs the threat posed by elevated multiples. While we caution this view by noting the sector's cyclicality and tendency to sell off strongly in market corrections, investing in quality businesses like Appen (ASX: APN) that generate strong earnings will reduce the impact of a broad-based sell-off lead by speculative, pre-revenue companies. The recent market selloff impacted Afterpay and WiseTech, companies on very stretched valuations, much more than higher quality, more mature tech companies like Xero and Altium.
WAAAX stocks more broadly have continued to rally up until the recent trade war and economic growth-related selloff, creating a buying opportunity within the sector. This is despite some companies within the group recently downgrading earnings or revenue expectations, highlighting broad based positive market sentiment to the stocks. Nevertheless, since the stocks have such high betas, we would expect them to correct further if the current market sell-off was sustained.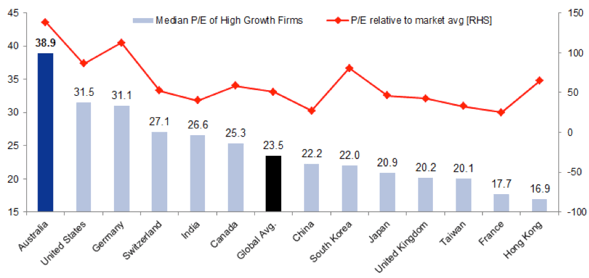 Figure 1: Australia has the most expensive high PE names (Credit: Livewire)
One view on the WAAAX stocks is that the premium to global peers is unjustified, and a result of funds with ASX 200 mandates paying up for growth in a value oriented domestic market. Others believe that non-quantitative factors such as quality management, strong pricing power, and competitive moats justify the earnings premium to international peers. The latter group would also argue that the limited number of growth stocks on the local index presents a restrictive sample size that makes a comparison with global peers unwise.
While all these points are true, the rising PE ratios across the sector, which have tripled over a two to three-year period, is definitely a cause for concern. As such, our overweight recommendation must be balanced with very careful business selection, given that the sectors meteoric rise over the last couple of years has lifted some companies which should not be trading at current levels. A near term rally on easing trade war fears will be a definite plus for the sector as a whole.
Materials
We are broadly underweight minerals stocks, believing that the sector could lose out from current changes in the macroeconomic environment, but remain constructive on the sector over the long term. Gold mining however is an area that we continue to view positively, with heightened trade tensions and uncertainty in global markets driving up the price of the precious metal. As a leveraged play to gold prices, we anticipate that gold producers will substantially outperform the broader market.
Although the near-term fundamentals in industrial commodities are mixed, they are strong over the long term. Every year between now and 2050, China alone is set to move over 10m people into cities every year. This will create huge demand for commodities such as iron ore, which are needed to fund the development and expansion of cities. In three years, China used more concrete for the rapid development of infrastructure and housing than the US did over the entire 20th century. China is projected to have an urbanisation rate of 90% by 2050, putting it on par with much of the developed world. The only major region in the world not to be almost fully urbanised by the middle of the century is Africa, with a projected urbanisation rate of 66%.
There are many investment opportunities in the local mining sector that will benefit from urbanisation story in China, with BHP Billiton (ASX: BHP), Rio Tinto (ASX: RIO) and Fortescue (ASX: FMG) having been profitable investments for Aussie investors. Nevertheless, at current valuations, we would not recommend initiating a position in these companies. Iron ore prices have rallied off the back of an unexpected shortfall, which will soon be reversed. This trend, in addition to the sudden slowdown in China, paints a bearish picture for the sector, increasing the chance that investors will get a far better entry point.
Real Estate
We remain overweight on the real estate sector as a whole, being attracted to high yields and potential cap rate compression across the commercial and high-quality retail and industrial REIT space. As a whole, we are underweight firms with a substantial exposure to residential real estate development and construction, believing that the underlying market consensus that our real estate downturn is over is fully priced. Since we see a continued risk, especially in the event that global economic fundamentals deteriorate, we look to fade the recent rally in residential developers.
One notable recent development in the sector is Dexus announcing its financial results. They recorded a 25.9% fall in profit and a was a small decline in the WALE of their office portfolio to 4.4 years (FY18: 4.6 years), which came alongside an additional fall in the industrial portfolio WALE to 4.7 years (FY18: 4.8 years). The company has announced extending the WALE as a core priority for FY20. This is to be expected, given the WALE is well below other REITS and holds multiples down. WALE is the weighted average lease expiry, the number of years until a client ends their lease. This measure is seen as a proxy for earnings and asset quality by many investors.
One positive change in Dexus' portfolio is the acquisition of the remaining 50% share in Sydney's MLC Centre. This gives them control of the asset and increases the quality of Dexus' book. It has however contributed to a fall in cap rates for Dexus, a trend which is set to accelerate this year after two interest rate cuts from the RBA. Dividends rose by 8.8% to $529.0 across Dexus as a whole, while distributions per security rose by a 5% to 50.2c. This was impressive for a low inflation environment and was backed up by a healthy 3.3% growth rate in FFO per security.
Another major stock within the sector to report was the Charter Hall Long WALE REIT. They recorded positive earnings growth and an expanding book of assets. A 16% WALE boost to 12.5 years was one of the largest highlights out of the result. It is driven primarily by both the Thales Australia acquisition and Hoppers Crossing lease extension. WALE is the weighted average lease expiry, the number of years until a client ends their lease. This measure is seen as a proxy for earnings and asset quality by many investors.

Figure 1: Cap rate compression across Australian REITS (Credit: Deloitte)
The company's portfolio of assets increased 40% to 2.13bn, while dividends per share rose modestly by 1.9% to 26.9 cents/ share. The REIT has a payout ratio of 100% which, though appearing unsustainable, is reflective of payout ratios that are close to 100% across the sector. Given commercial tenants pay most outgoings, there is very little capital that must be re-invested into the assets, unlike a business that needs to continually re-invest to boost its competitive advantage.
Share prices of REITs were mostly little changed on their results, as the market shrugged off profit declines that were primarily linked to short term revaluation losses. We remain confident that a moderate slowdown, along with further cuts in interest rates from the RBA, will drive up REIT prices through cap rate compression.
Communication Services
We have underweight positioning in communication stocks and have for a considerable amount of time. The development which are particularly looking to fade is the prevailing market consensus that 5G will revive the fortunes of companies like Telstra. With the stock rallying almost 40% this year on the back of what we believe is misplaced market optimism, we believe that this is a great time to take profits.
5G technology will provide by far the least benefit to telcos. The main advantage they will have is being able to lift premium enterprise revenue, by allowing for the development of high-end packages for applications like gaming and autonomous cars. Most telco players, however, are not well positioned to take advantage of growth in the technology. This is because telco consumers expect continual network improvements without meaningful price increases, as they have been receiving for decades. This means that telco companies have a large bill for a 5G rollout, just to stay relevant in the eyes of consumers. With most operators rolling out 5G networks simultaneously, we do not anticipate major global market share shifts within telecommunications off 5G development.
In analysing the recent rally in Telstra, it is worth assessing the company's 4G network, the bulk of which was rolled out in 2014 with the network completed in 2015. In 2015, the company also launched Cat-6 connectivity, a more advanced system that maximised network speed for customers and represented the pinnacle of what 4G has to offer. Since Cat-6 offered far superior connectivity, Telstra continued to rally for an extended period, as investors assessed the prospects of the network. The share price sold off heavily once hype around 4G died, entering a multi-year downtrend. While we do not yet know the outcome for Telstra's 5G rollout for sure, investors should think about if the current 5G rollout will be different.
While the business is defensive, it is also a low margin, low quality business that is exposed to a substantial amount of regulatory risk. Our preference for businesses with some sort of a competitive moat that can allow them to protect margins makes us underweight the sector.
Utilities
We are overweight utilities stocks, with the sector amongst one of our high conviction picks. The strong dividend yields across the sector, which are positioned to grow sustainably, make the industry an attractive play for Aussie investors. Recent interest rate cuts all but eliminate any illusion of income from term deposits in the mind of retail investors, driving more people into the stock market. Capital from more defensive corners of the investment landscape is set to flow into the safer corners of the listed equity market, causing a rally in stocks with a stable and growing income.
Companies in the utilities sector are also positioned to benefit from recent changes in interest rates from the RBA. Most utility companies choose to use high levels of leverage, which is safe in light of the extreme defensiveness of earnings in the underlying business. This will mean the profits of utilities companies will increase substantially in the event of additional rate cuts, driving up earnings and share prices across the sector.
One of the companies we are particularly optimistic on within the sector is APA group. The company operates in the gas pipeline space, an area that is particularly defensive, even by the standards of the sector. APA also supplies over half of the gas to Australian households, which gives the company a strong competitive moat arising from economies of scale in gas supply. The company trades at a reasonable 4.5% dividend yield, which is forecast to grow substantially over the next couple of years. Trading at 14x EBITDA, APA is a cheap business that is set to re-rate as investors continue searching for yield.
---
Disclaimer:
This article has been prepared by the Australian Stock Report Pty Ltd (AFSL: 301 682. ABN: 94 106 863 978)
("ASR"). ASR is part of Amalgamated Australian Investment Group Limited (AAIG) (ABN: 81 140 208 288 Level 13, 130 Pitt Street, Sydney NSW 2000).
This article is provided for informational purpose only and does not purport to contain all matters relevant to any particular investment or financial instrument. Any market commentary in this communication is not intended to constitute "research" as defined by applicable regulations. Whilst information published on or accessed via this website is believed to be reliable, as far as permitted by law we make no representations as to its ongoing availability, accuracy or completeness. Any quotes or prices used herein are current at the time of preparation. This document and its contents are proprietary information and products of our firm and may not be reproduced or otherwise disseminated in whole or in part without our written consent unless required to by judicial or administrative proceeding. The ultimate decision to proceed with any transaction rests solely with you. We are not acting as your advisor in relation to any information contained herein. Any projections are estimates only and may not be realised in the future.
ASR has no position in any of the stocks mentioned.