To put it plainly, the a2 Milk Company (ASX: A2M) which produces milk and infant formula have had a horrible last 12 months. In fact, the A2M share price has fallen a massive 72% since the 12-month high of $20.05 in early July 2020, something which shareholders are unsurprisingly extremely unhappy about. To put it into greater perspective, if investors had just held an ASX200 ETF, they would have made a solid 20% by holding the market index rather than A2M shares, showing how great the underperformance has been.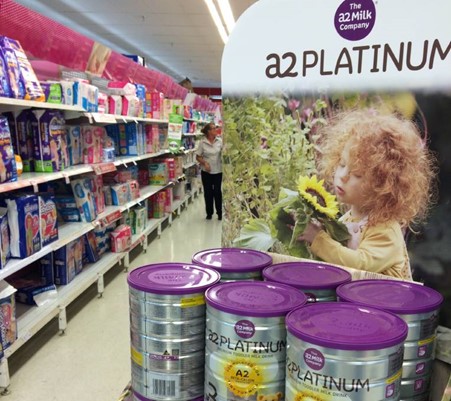 Source: Farm Online
In fact, investors are not only disappointed, but they are suspicious of management transparency considering these huge falls, in which there has been murmurs of a potential class action against A2M, which A2M recently acknowledged in an announcement. Slater & Gordon have been investigating the viability of starting a claim for A2M's shareholders who have held the A2M stock between 19 August 2020 and May 7, 2021, for a possible breach of the Corporations Act with misleading or deceptive conduct and breaching continuous disclosure rules.
Management have continuously reiterated to shareholders that the problems they had with company performance were mainly due to Covid-19 pandemic related headwinds, which implies minimal structural issues and somewhat reassured A2M shareholders of its ability to recover, in which later announcements had acknowledged problematic structural headwinds.
Four downgrades in just a 9-month period has raised concerns over A2M's immediate transparency, suspecting that they may have drip fed the information over this time rather than including it in their initial full year guidance, so as to not to cause a quick run on A2M shares. Furthermore, before this period, major A2 Milk executives right up to the CEO had already been unloading off their A2M stock holdings, showing their strong conviction against the company's performance. A2 milk shares prices dropped as a result.
This includes Asia Pacific chief executive Peter Nathan selling 750,000 A2M shares at NZ$20.12 for NZ$15.1 million, CEO Geoffrey Babidge selling 100,000 A2M shares and Chairman David Hearn offloading 250,000 A2m stocks. With selling transactions of that scale, it was not a good look selling them without giving an explanation and gives off the notion that company management knew the direction of their company's earnings trajectory and thus A2M share price performance.
A2M have downgraded their sales to be at NZ$1.2 billion for FY2021, a 30% annual decline, and another downgrade from an expected $1.4 billion from their half yearly announcement. Their EBITDA margin guidance has now been adjusted to just 11-12% for the financial year, which was down from 26.7% in their half yearly update, and well below the slight decline to 25% that was given in guidance back then. This has been attributed to a dire outlook in sales for future quarters, where action has been taken to rebalance overstocked inventories by actively reducing sales, with an A2M stock provision of $80-90 million in addition to the $23 million provision given in the half yearly update. This includes disposing the excess inventory A2M stock.
Furthermore, there has been an increase in COGS with their increased reliance on its more costly China label products to make up for the headwinds facing the English label line due to daigou disruptions, as well as increased brand investment and financial support for daigou distribution channels. To make up for this, A2M will revert back to its premium pricing for English label products. Daigou is a term for the reseller market, where syndicates can (legally) accumulate goods such as baby formula and bring them to sell to China. This has obviously been severely disrupted by the Covid-19 pandemic, as international travel from Australia to China has all but stopped.
However, this investment in improving daigou reseller and cross border e-commerce (CBEC) channels have not delivered desired outcomes, with A2M's most recent announcement confirming negligible improvements in pricing, sales, and the aforementioned inventory levels. For the third quarter of FY2021, A2M recorded a year on year decrease of 56% and 77% for infant nutrition sales in the ANZ segment and CBEC channel, respectively, with a rough final quarter expected as their investments in improving supply channels has not resulted in any benefits, decreasing the A2M share price ASX.
The China label had a stable 5% year on year growth, although experienced an 18% decline from the previous quarter (Q2FY2021) due to inventory issues. The relatively stable China label segment unfortunately does not make up for the large problems in the English label segment. Furthermore, the store count for A2M products increased to 22,600, with its market share in mother and baby stores (MBS) stable at 2.4%. This is somewhat disappointing given A2M's focus and investment on marketing and customer engagement to increase its market share rather than keeping it the same. A2M are planning to further increase their marketing spending to increase the A2M share price.
Although with China announcing their new 3 child policy, the A2M share price ASX only went up slightly on the day of that news. Allowing for 3 children families won't necessarily mean families will be eager to follow this, particularly given the long-term decline in birth rates, and polling that suggested sentiment for larger families were not high due to costs of childbearing, lack of government support and culture of being used to small families after decades of restrictive child policy.
Analysts have reached a consensus EPS for A2M shares at $0.13, which at current prices, even after shaving 72% off its price in the past year, it is still trading at a very high 44x. This may be temporarily high given suppressed earnings from cyclical Covid-19 impacts, which should recover somewhat as this subsides, where based on FY2022 earnings forecasts, the A2M share price is trading at 22x earnings. However, the pandemic impacts may take years to recover as international travel will take years to return to normal.
Furthermore, even if predicting a full cyclical recovery, A2M stocks may not emerge out of this as strong as it was previously due to the structural headwinds. Although A2M have re-iterated their strong branding in China, this may not be the case as the Chinese market is increasingly more receptive to domestic infant formula products and loyal to domestic producers. In addition to this increase in competition dynamics, there is also strong innovation.
---
Disclaimer:
This article has been prepared by the Australian Stock Report Pty Ltd (AFSL: 301 682. ABN: 94 106 863 978)
("ASR"). ASR is part of Amalgamated Australian Investment Group Limited (AAIG) (ABN: 81 140 208 288 Level 13, 130 Pitt Street, Sydney NSW 2000).

This article is provided for informational purpose only and does not purport to contain all matters relevant to any particular investment or financial instrument. Any market commentary in this communication is not intended to constitute "research" as defined by applicable regulations. Whilst information published on or accessed via this website is believed to be reliable, as far as permitted by law, we make no representations as to its ongoing availability, accuracy or completeness. Any quotes or prices used herein are current at the time of preparation. This document and its contents are proprietary information and products of our firm and may not be reproduced or otherwise disseminated in whole or in part without our written consent unless required to by judicial or administrative proceeding. The ultimate decision to proceed with any transaction rests solely with you. We are not acting as your advisor in relation to any information contained herein. Any projections are estimates only and may not be realised in the future.
ASR has no position in any of the stocks mentioned.