Should You Invest in China?
Billionaire investor Ray Dalio, the founder of the world's largest hedge fund, Bridgewater Associates, recently weighed into the debate on whether to invest in China. After hearing accusations of Chinese IP theft, trade regulations and an opaque regulatory environment, most investors are fearful of investing in China.
Ray Dalio takes an entirely different approach and talks about the risks of not investing in China, a decision he thinks will leave investors behind. He mentions the rise of the Dutch and British empires, in addition to the rise of the United States, and poses the question of whether you would, in hindsight, miss out on the opportunity to invest in those powers on their ascendancy. He notes that conflict is normal when the global economic order is turned on its head, and the current trade war is far milder than the traditional wars that typically accompany such a change.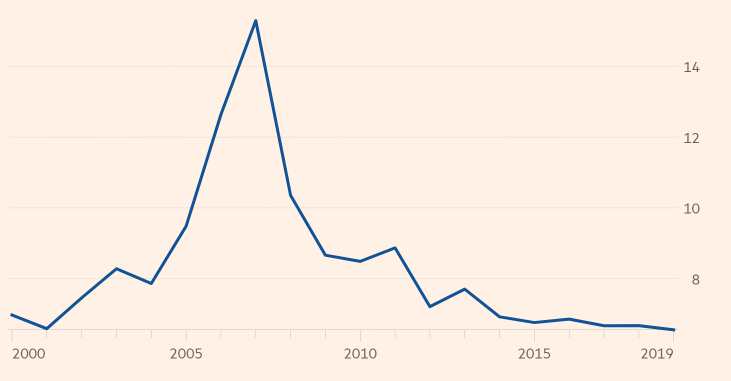 Figure 1: Chinese labour productivity growth, while lower than it once was, is still more than double most advanced economies
China also accounts for more than a third of the world's unicorns, tech start-ups valued at over $1bn, and will soon have the largest stock exchange by market capitalisation in the world. Stocks like Tencent, a Chinese social media and gaming colossus, would have made anyone who invested $1,000 fifteen years ago a millionaire. Dalio, who saw China grow from 2% to 22% of global GDP, believes it's a mistake not to search for opportunities in this rising economic superpower.
Why Not Get My Chinese Exposure from A2 Milk, Blackmores and Treasury Wine Estates?
The US-China trade war has made non-Chinese companies more exposed to regulatory risks than home grown Chinese businesses. While China offers great investment opportunities, it does have a very different outlook to international trade and financial flows than the dominant western powers of today. China's one-party political system allows them to plan for the long term, meaning that the current conflict will most likely be a long and drawn out struggle between the US and China.
A2 Milk (ASX: A2M) sold off earlier this year, as China ratcheted up regulations on the importation and advertising of foreign infant formula. A2 can no longer advertise infant formula in the 0-12-month-old market segment, and China is set to favour domestic producers which it wants to obtain a 60% market share. This was a substantial selloff and is just one of the dangers of trying to play China while avoiding investing in Chinese companies.
Trying to play the Chinese growth story from Australia runs against both logic and intuition. Why would you take advantage of a country's growth potential by sitting thousands of miles away and never going anywhere near it? That's like learning how to drive a car by taking a pair of binoculars out and looking at roads across the valley to see other people drive.
Are There any Other Risks of Only Investing in Australia?
Household debt in Australia is much higher than levels that triggered the 1991 recession, where more than a million people were out of work. It also remains higher than most developed countries globally. By only investing in Australia, you are exposing yourself to risks posed by historically high levels of leverage, especially in the housing market. If history is any guide, this won't end well.
Another risk many people take on by only investing in Australia is high concentrations in financials and mining. The only reason financials have been on a three-decade uptrend is because that's the amount of time since the last recession. British and American banks were recapitalised in the GFC, resulting in equity holders in those companies losing their entire investment, and Aussie investors were lucky to not suffer the same fate.
How Many Attractive Investment Opportunities are there Outside China?
Being able to access the other 98% of global markets opens entire industries and thematic factors that simply are not for sale on the ASX. One example is 5G Networks, a technology enabling the introduction of autonomous cars and IoT devices. This tech is set to transform the global economy over the next decade. We just don't have companies at the cutting edge of developing 5G in Australia. Telstra faces more competition with 5G than it did with 4G, which doesn't bode well for the telco giant, given the completion of its 4G rollout was followed by a multi-year share price slide.
The S&P 500 has quadrupled since the financial crisis, where our own market has barely doubled. This makes a massive difference to the long term returns of investors and occurred while the Australian economy was enjoying a golden 30 years of economic growth. To make matters worse, most Aussie investors invested in BHP, RIO and the big 4 banks. Most of these investors barely moved over the past 10 years, where someone who bet $350k on the US market and did nothing else would have been sitting on over a million dollars in profits. The market has changed, and the wealth-building multi-baggers of the future may not be the blue-chip stocks of today.
There are also opportunities to purchase stocks at far more attractive valuations; high dividend stocks internationally often yield over 10% with growing earnings. This is particularly true in Europe, where a decade of stagnation and concerns over EU stability has dented stock market performance. The WAAAX stocks provide Aussie investors with sky-high rates of growth, but trade at some of the highest multiples awarded to any growth companies in the world. This is because there are so few growth companies in Australia, that Aussie investors who are unable to invest offshore must pay much higher multiples for growth.
International Exposure through Macrovue
Typical issues which Aussie investors have with investing offshore include more limited knowledge of companies outside, sky-high brokerage costs at the major brokers and not knowing where to start. We side-step these issues through developing a platform called Macrovue, where a top-performing fund manager identifies attractive international investment opportunities for us to look at. We pay $15 a trade for brokerage and have a clear direction on which economic trends we are investing in. As one of the only platforms offering managed portfolios without a management fee, it's worth looking at a couple of the themes we are looking at. The portfolios each have several stocks that investors can pick and choose if they wish:
Warren Buffett Top 10 (11.21% LTM): While the Oracle of Omaha needs no introduction, the $400k price tag of one of his class A shares prices many investors out of the company. To address this issue, we created a portfolio tracking his top 10 holdings, allowing you to instant access to the wisdom powering the 20% average returns for 60 years that Buffett delivered to his investors.
Luxury goods (+4.82% LTM): Luxury goods producers have high profit margins and sticky customer bases, making them excellent long-term investments. They are particularly well positioned to take advantage of growth in China, given the high levels of luxury goods expenditure amongst the nation's booming middle and upper class. Many of the companies in this view have significant family ownership stakes, including Hermes and LVMH, protecting them from short term biases in decision making.
5G Wireless Technology (32.65% LTM): 5G technology is the driving force enabling most of the game-changing technologies over the next decade, from autonomous cars to smart homes. With most of the US and Europe poised to roll out 5G technology over the next few years, companies exposed to this trend are expected to see massive revenue growth.
---
Disclaimer:
This article has been prepared by the Australian Stock Report Pty Ltd (AFSL: 301 682. ABN: 94 106 863 978) ("ASR"). ASR is part of Amalgamated Australian Investment Group Limited (AAIG) (ABN: 81 140 208 288 Level 13, 130 Pitt Street, Sydney NSW 2000).
This article is provided for informational purpose only and does not purport to contain all matters relevant to any particular investment or financial instrument. Any market commentary in this communication is not intended to constitute "research" as defined by applicable regulations. Whilst information published on or accessed via this website is believed to be reliable, as far as permitted by law we make no representations as to its ongoing availability, accuracy or completeness. Any quotes or prices used herein are current at the time of preparation. This document and its contents are proprietary information and products of our firm and may not be reproduced or otherwise disseminated in whole or in part without our written consent unless required to by judicial or administrative proceeding. The ultimate decision to proceed with any transaction rests solely with you. We are not acting as your advisor in relation to any information contained herein. Any projections are estimates only and may not be realised in the future.
ASR has no position in any of the stocks mentioned.