With marijuana legalisation spreading across the developed world, now is the time to consider getting on board the cannabis revolution. What was once the domain of speculators and gamblers is now an industry that is shaping up to grow at 24%p.a. between now and 2025 (Grand View Research), which would put the medicinal marijuana market at $US$66.3bn. The illicit cannabis market is over $340bn and, while we would never condone investing here, legalisation presents huge upside for cannabis stocks.
There are a few hemp stocks in Australia, but many of the profitable, long-lasting and well-managed marijuana stocks are based offshore. Canada legalised marijuana in 2001 nationwide, meaning that local marijuana stocks do not have to deal with the state by state legalisation, as in the United States. The government recently legalised cannabis for recreational use, providing an additional source of demand for the drug.
How it works
Cannabis has only recently gained medical attention and scientific research. As such, while existing products are on the market, the addressable market of areas of medicine in which cannabis could be used is still in question. The most serious complication affecting the use of cannabis for medicinal purposes – aside from regulation – is the uncertainty of its composition. As unless it is selectively modified, it is not a single substance for which purity and strength can be readily ascertained. This is a factor that could cause doctors to exercise some degree of caution in prescribing medical cannabis.
Here are a few key areas where cannabis is being applied to medicine:
Chronic pain – cannabis is seen as a compelling alternative to most strong pain medication which is currently opioid-based;
Anxiety – current medications are SSRI and SNRI products which influence serotonin in the brain and causes a chemical imbalance, cannabis may be a safer alternative;
Nausea – a growing number of chemotherapy patients are taking cannabis to reduce side effects; and
Dermatology – as cannabis is anti-inflammatory and has antioxidant properties. Severe acne is currently treated through topical creams, oral antibiotics or laser, which have serious side-effects.
There are a few jurisdictions where cannabis has been legalised for recreational use, with the largest being California and Canada. One of the key incentives for the government to legalise recreational cannabis is tax revenue that can be derived from sales. This is reflected by the first US state that legalised recreational use of cannabis – Colorado – which has generated $266.5m in marijuana taxes in 2018 and $905.5m in taxes since legalisation in Feb 2014. As the legal recreational market for cannabis is very small, this area has the largest potential for future growth.
In Australia, cannabis and THC are classified under 'Controlled Drugs', while CBD is included under Schedule 4 Prescription Only Medicine. Preparations must contain 2% or less of other cannabinoids, according to the Therapeutics Goods Administration (TGA). Access to medicinal cannabis is available either through an Authorised Prescriber or application to the TGA through the Special Access Scheme.
The main downsides to investing in the medicinal marijuana sector is that it is very difficult to gain a competitive advantage. Companies are selling an undifferentiated product, meaning that high margin producers are often under a competitive threat. While companies can patent medical innovations within the marijuana space, it is generally very easy to design a different process to achieve the same ends that can also get patented.
The implications of this for investors is to think of the companies as being like agricultural stocks when they mature. While there could be enough growth within the sector to justify high multiples, for now, you should pay for growth and not for implied earnings quality. As such, finding undervalued producers that generate a strong earnings stream, existing distribution agreements and growth potential would be our primary focus within this space.
Should I Invest in Australia or Offshore?
Australia's largest cannabis company is a small-cap by the name of Exixinol (ASX: EXL). The stock is worth half a billion dollars and burns $19.3m a quarter in cash, a figure which has increased from the previous period. While we don't advise investors to avoid this company, it is worth noting that stocks with significant negative cash flows are far more vulnerable to corrections. This is because the company would need to dilute existing shareholders by raising more capital in a downturn, at fire-sale prices.
If you look offshore, you can find far safer cannabis companies that are more established, worth over $10bn and have great new product pipelines. The decision of whether to invest here or offshore will ultimately depend on your risk tolerance and views on different companies in the sector. Nevertheless, offshore opportunities at least merit consideration, given the Australian sector is only in its infancy. Additionally, Aussie companies generally compete in the same end markets, primarily the US and Canada, both of which already have established players.
Range of Products
Cannabis can be used in a very broad range of products, given a suitable regulatory backdrop. The drug can be used to produce sleep aids, animal health products, pain relief, anxiety medication, athletic drinks, amongst others. Increased research will enable the use on cannabis in a variety of other products and will become more viable as more countries legalise the drug.
The combination of marijuana legalisation and increased R&D expenditure on new product development could turbocharge growth in the addressable market of existing cannabis stocks. The world's largest marijuana company, Canopy Growth, puts its addressable market at $250bn, based on its own projections of new product development within the cannabis space.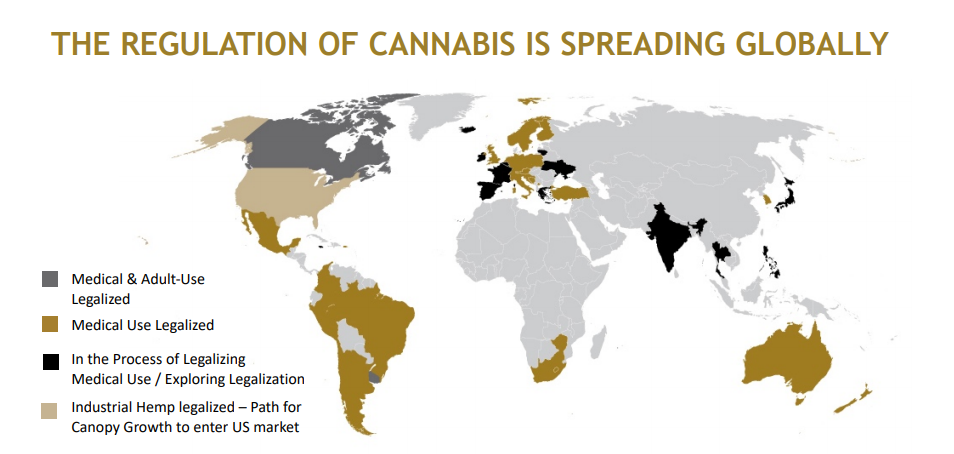 Figure 1: Cannabis is being legalised in more and more countries around the world
The growing legalisation of cannabis around the world promises to turbocharge the growth of both medicinal and recreational cannabis producers. As seen in the chart above, very few jurisdictions have legalised both medicinal and recreational cannabis use, creating a huge growth opportunity. The potential legalisation of cannabis in Japan provides a compelling international expansion opportunity for the dominant players in the cannabis market.
Canopy Growth Corp (TSE:WEED)
Canopy Growth is the largest cannabis stock by market cap, trades on the NYSE and is worth $13.5bn. The business is a medical market leader in spectrum therapeutics and has operations across 12 countries around the world. The company operates across both medical therapies and consumer products that are designed for recreational use. Recreational marijuana has significant upside because there are so few jurisdictions where it has been legalised. Mass legalisation can help the company grow more rapidly than businesses that only sell medicinal marijuana, especially given its existing dominance in the recreational products space and brand recognition.
The company is included in an index of the top 60 stocks on the Toronto Stock Exchange and is a market leader within the recreational market in Canada. Unlike other companies in the space, Canopy Growth has filed 90 patents and has 240 patient applications awaiting approval. The company also has a monopoly on some products it sells. While the patents will not create as large a barrier to entry as it would in a standard pharmaceutical company, the existing monopoly makes Canopy Growth the default choice for some products. This reputation for quality offers some degree of protection from margin contraction.
Canopy Growth has grown revenues by almost 300% over the past four quarters, and ships over 10 tonnes of cannabis products every year. Its recreational segment is around 80% of the whole business, and the company is raising $4bn to facilitate an aggressive US expansion strategy. Additionally, the company is looking to make acquisitions to boost the technology and product distribution capabilities within the business.
Tilray Inc (NASDAQ:TLRY)
Tilray is a $4.27bn NASDAQ listed marijuana company that has recently received approval to import CBD, a product used to treat patients with an alcohol use disorder, into the United States. The product can also be used to treat PTSD, a market which is booming on the back of increased recognition and treatment support, particularly amongst veterans. The company has a strong track record of execution and is currently prioritising its EU market entry.
Tilray is targeting a long-term gross margin of 50%, along with an adjusted EBITDA margin of 25%. If realised, the outlook would place the company in line with other R&D focussed pharmaceutical companies, which is where Tilray sees itself over the longer term. This is a large call, as existing cannabis producers have struggled to generate this sort of competitive moat over the long term. Nevertheless, as Tilray trades on around 40x revenue and is yet to make a profit, the company would need to deliver strong results, as investors are expecting a lot from the company. For investors looking to gain exposure to cannabis through Tilray, the stock would most likely sit at the high-risk end of your investment portfolio.
Macrovue
Typical issues which Aussie investors have with investing offshore include more limited knowledge of companies outside, sky-high brokerage costs at the major brokers and not knowing where to start. We side-step these issues through developing a platform called Macrovue, where a top-performing fund manager identifies attractive international investment opportunities for us to look at. We pay $15 a trade for brokerage and have a clear direction on which economic trends we are investing in. As one of the only platforms offering managed portfolios without a management fee, it's worth looking at a couple of the themes we are looking at.
Although there is no marijuana-specific theme on Macrovue, the range of international stock exchanges the platform covers includes the top 3 markets for cannabis stocks globally: the NYSE, NASDAQ and the Toronto Stock Exchange. With low brokerage rates removing a common reason for Australian investors to avoid offshore markets, the opportunity to buy individual stocks through Macrovue could be just what you need to take the next step in your investment journey.
Other themes you can access through Macrovue include:
5G Wireless Technology (32.65% LTM): 5G technology is the driving force enabling most of the game-changing technologies over the next decade, from autonomous cars to smart homes. With most of the US and Europe poised to roll out 5G technology over the next few years, companies exposed to this trend are expected to see massive revenue growth.
Internet of Things (14.35% LTM): From sensors that monitor patients with chronic illnesses to fridges that provide live shopping lists, the Internet of Things will transform our lives over the next decade. 5G will enable a rapid rollout of IoT technology and positions the industry to grow at 30% a year over the next five years, indicating that the growth is only now getting started.
Disruptive Technology (34.05% LTM): With the average company staying in the S&P500 for less than 15 years, as compared with 60 years a few decades ago, not reviewing positions in previously untouchable blue-chip stocks is becoming risky business. The pace of technological growth is accelerating, and the leaders of tomorrow will be the companies best able to capitalise on this trend.
Looking for more information on investing in Medical Marijuana?
Over the past few years, you have probably heard of the enormous growth of Marijuana stocks and the projections of how large this industry could become. There have been a number of exciting Medical Marijuana companies listing to the Australian Stock Exchange. This list of speculative stocks has been delivering impressive returns while speculation and excitement grows. Download our complete guide to Investing in Cannabis Stocks and see what our analysts think about the current crop of ASX-listed Medical Marijuana stocks.
---
Disclaimer:
This article has been prepared by the Australian Stock Report Pty Ltd (AFSL: 301 682. ABN: 94 106 863 978) ("ASR"). ASR is part of Amalgamated Australian Investment Group Limited (AAIG) (ABN: 81 140 208 288 Level 13, 130 Pitt Street, Sydney NSW 2000).
This article is provided for informational purpose only and does not purport to contain all matters relevant to any particular investment or financial instrument. Any market commentary in this communication is not intended to constitute "research" as defined by applicable regulations. Whilst information published on or accessed via this website is believed to be reliable, as far as permitted by law we make no representations as to its ongoing availability, accuracy or completeness. Any quotes or prices used herein are current at the time of preparation. This document and its contents are proprietary information and products of our firm and may not be reproduced or otherwise disseminated in whole or in part without our written consent unless required to by judicial or administrative proceeding. The ultimate decision to proceed with any transaction rests solely with you. We are not acting as your advisor in relation to any information contained herein. Any projections are estimates only and may not be realised in the future.
ASR has no position in any of the stocks mentioned.