Markets are still close to all-time highs, despite a worsening US-China trade war and growing signs of a global economic slowdown. Singapore, a trading hub seen as a bellwether for the global economy, contracted in the last quarter and is projected to be in recession within two months. Analysts believe recessions to be imminent in the UK and Germany, while Goldman Sachs recently announced that the chance of a recession in the US over the next 12 months has doubled.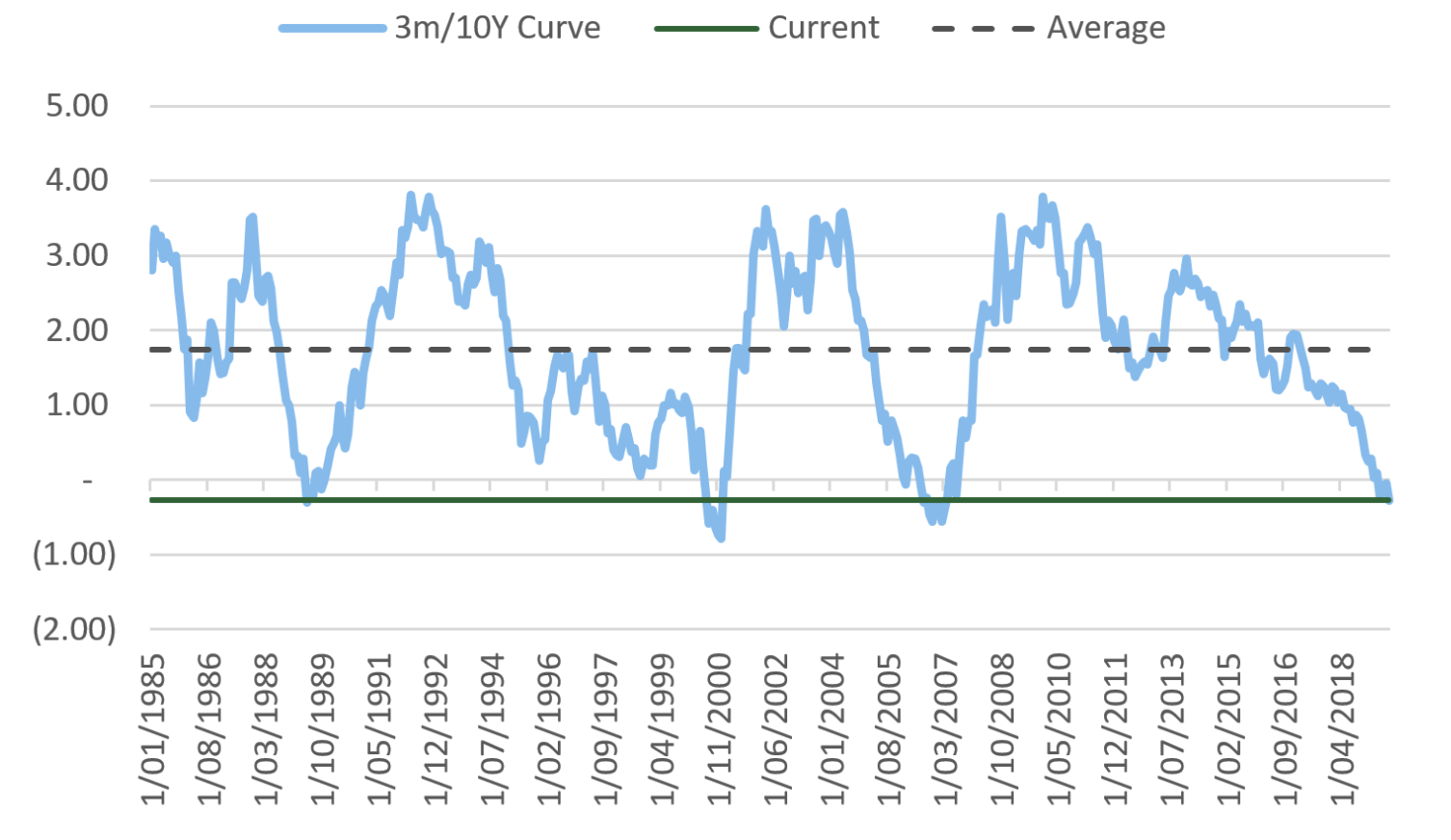 Figure 1: Bond Markets have correctly predicted the last 4 recessions, and are now predicting another one (Credit Bloomberg; Nikko Asset Management)
When people believe the economy will improve and interest rates are going to go up, they demand a premium for holding long term fixed income securities, like 10-year notes. Consequently, the difference in yield between shorter term bonds and long-term bonds grows. Conversely, when people think the economy is going to be in recession and central banks will ease monetary policy, they are happy to take the same interest rate on long term bonds that they accept over the short term. This is known as yield curve inversion and occurs because recessions result in central banks cutting rates, causing a bond rally. Given that yield curve inversion is an accurate recession indicator, investors in the know are worried about bond markets predicting another one.
Being overweight in industries like financials and mining works very well if the economy grows, or if Australia does not follow the rest of the world into recession. While it has worked well in the three decades since the last recession, a different investment strategy is needed in a downturn. More and more people want to hedge their portfolio risk, but cash is usually the only way people think of. While cash can be king in a recession, it generally won't make as much money as a lot of other asset classes. We therefore suggest considering it alongside a few other opportunities that have historically been better bets at the bottom of the market cycle.
US Government Bonds
When the economy goes down, safe havens like the US Dollar tend to rally. The US dollar rallied around 100% against the Aussie over the second half of 2018 as the global economy soured. By buying US government bonds before a recession, you could make big profits just through the currency change. When the recession starts and you are happy with valuations, you would exit the bond hedge and take profits, thus increasing your buying power when equities are at their cheapest.
The other component of the return is that US bonds rise in US dollar terms. This is because central banks will almost invariably cut interest rates in a recession, which pushes the price of bonds up.
To illustrate why, suppose you held a $1,000 bond paying a $50 a year in interest for the next 10 years. Imagine interest rates suddenly fell by 5%, and new bonds that sold for $1000 now paid a 0% interest rate. Investors will clearly pay more for the first one since it makes more money, pushing the price of the initial bond up.
We have a long-term US treasury bond ETF that has already rallied over 15% in 2019 alone. If you had bought the longest dated US treasury bonds before the GFC, you could have tripled your money in AUD terms while most investors were hammered in the worst financial crisis since the Great Depression. This is because you benefit from the rally in the bonds themselves, and the US dollar rallying as a safe-haven currency.
Gold
Gold has been a great store of wealth for thousands of years, and all major global currencies were backed by gold as recently as half a century ago. While currencies are no longer tied to the precious metal, it's price will typically rise in recessions because people still see it as a safe asset. If stocks are going down, people are worried about the stability of their national currency and want something with a tried and tested record of going well, gold is a good bet. Billionaire investor George Soros has used these facts to hedge his portfolio, so he can make money in a recession – the key question is how he did it.
The more straightforward hedging strategy is simply to buy the precious metal. As a successful store of wealth, gold rallies in a recession, thus making up for declines elsewhere in your portfolio. The US dollar gold price is up 26.1% over the past year, and most major global economies haven't even started contracting yet. Investors like Ray Dalio, the founder of the world's largest hedge fund, is bullish on gold and projected a price as high as $5,000 an ounce (compared to $1,502 today). While we aren't as bullish as Dalio, we do believe it is a great way to hedge your portfolio.
Another way to hedge your portfolio is to buy the companies that produce gold. Gold miners make a profit from the difference between their production costs and the current gold prices. To put that into perspective, a company which mines gold at a cost of $1,000/ ounce, makes $500 an ounce when the gold price is $1,500. If the gold price rises to $2,500 an ounce, the gold producer sees their profit triple even if production is flat.
This is why ASX gold producers like Newcrest Mining (ASX: NCM, +77%), Regis Resources (ASX: RRL, +39%) and Northern Star Resources (ASX: NST, +74%) are all up way more than the gold price. Those returns certainly beat the low interest savings accounts that most investors use to ride out a downturn.
Cash
When the economic outlook weakens, a lot of investors choose to switch to cash. While this is unlikely to make as much money as gold or long-term bonds in a recession, it is also not exposed to capital loss. This means that you know exactly how much money you will have in a market sell-off and can plan your buy list accordingly. It also helps investors who may need some cash to pay a large bill and need to have that capital security.
Most institutional investors who are allowed to use either bonds or gold as part of a hedging strategy. While cash could still have a place, it won't actually make you much money on the downside, with interest rates at record lows. While it will still outperform equities if there is a recession it may not be the best place to park cash on the downside.
How to Manage Your Shares
While shares will go down in a recession, making a one way bet on a crash means you could lose out on a lot of gains if you're wrong. This is why it could be wiser to hedge your bets and continue to invest some money in the stock exchange, profiting from the market's long-term outperformance. Nevertheless, it is still a useful exercise to position your investments to outperform over the cycle as some shares will do better than others.
Interest rate cuts in a boom time such as ours will boost high growth companies whose cash flows a long time in the future suddenly become more valuable. In a recession however, when market confidence is far more subdued, most capital flows into defensive industries.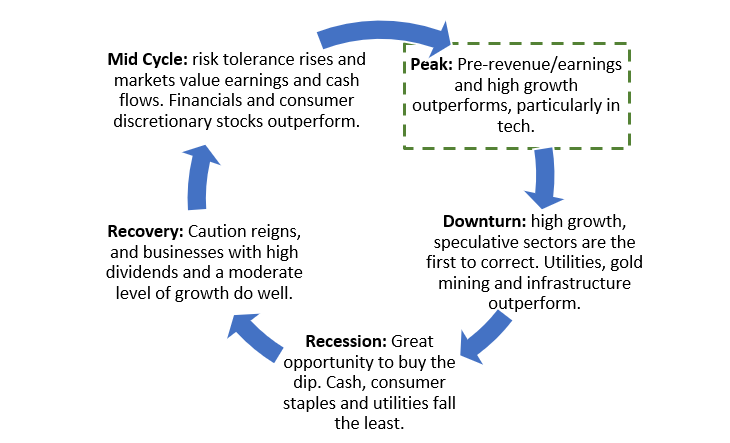 Figure 2: Which industries outperform depends on our position in the economic cycle (Source: ASR)
Sectors that benefit most from falling interest rates include those with high levels of debt and ones that are dominated by growth companies with a large percentage of their cash flows in the future. Tech, Infrastructure and Utilities are generally the biggest beneficiaries, and a balance between all of them helps position us for the current market dynamic while being prepared for a downturn.
---
Disclaimer:
This article has been prepared by the Australian Stock Report Pty Ltd (AFSL: 301 682. ABN: 94 106 863 978) ("ASR"). ASR is part of Amalgamated Australian Investment Group Limited (AAIG) (ABN: 81 140 208 288 Level 13, 130 Pitt Street, Sydney NSW 2000).
This article is provided for informational purpose only and does not purport to contain all matters relevant to any particular investment or financial instrument. Any market commentary in this communication is not intended to constitute "research" as defined by applicable regulations. Whilst information published on or accessed via this website is believed to be reliable, as far as permitted by law we make no representations as to its ongoing availability, accuracy or completeness. Any quotes or prices used herein are current at the time of preparation. This document and its contents are proprietary information and products of our firm and may not be reproduced or otherwise disseminated in whole or in part without our written consent unless required to by judicial or administrative proceeding. The ultimate decision to proceed with any transaction rests solely with you. We are not acting as your advisor in relation to any information contained herein. Any projections are estimates only and may not be realised in the future.
ASR has no position in any of the stocks mentioned.